Music, movement, touch, clothing-opted bodies, and connection - this combination is foundational, healing, and inspired… and it's yours to experience!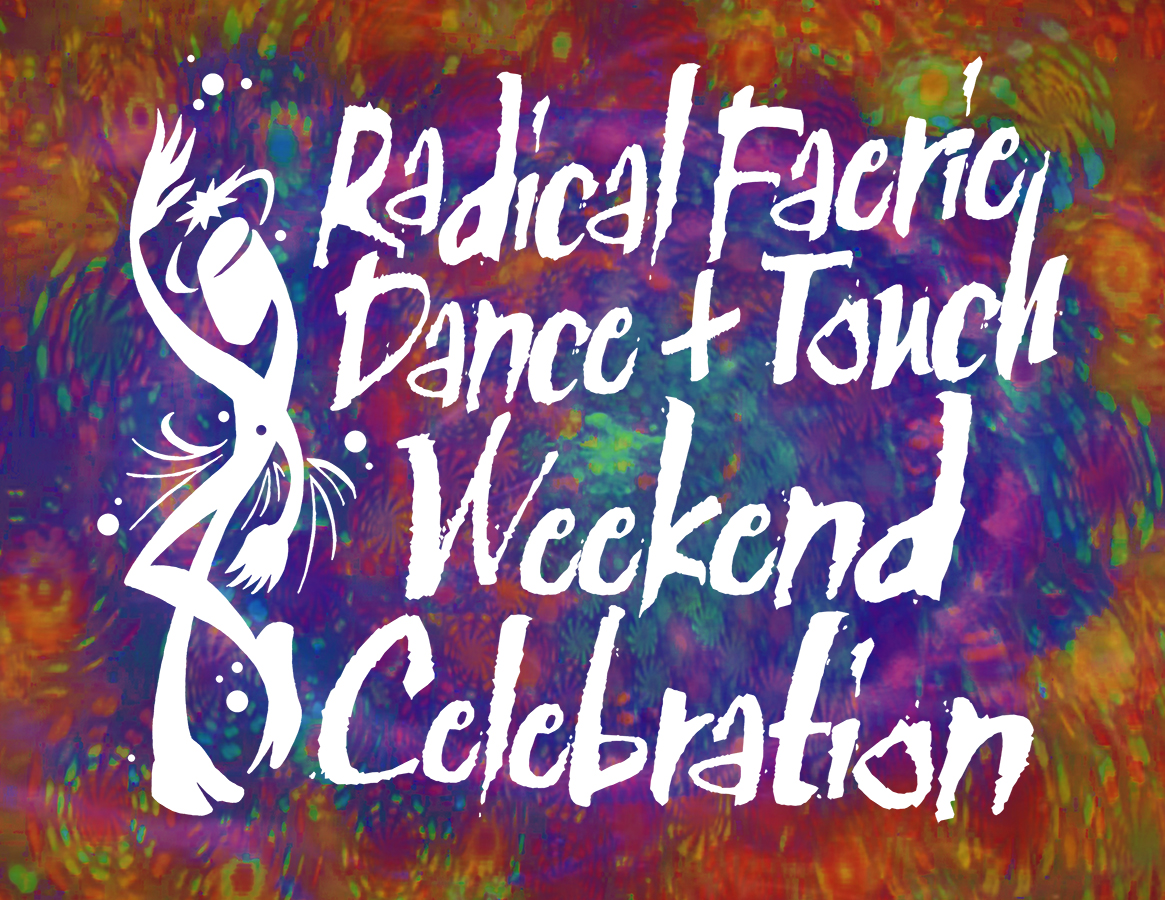 August 11-13, 2023. Seminarhof Schöppingen, Germany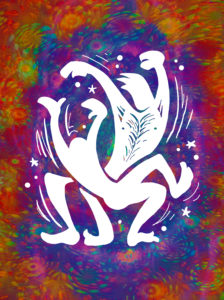 You're invited to spend a weekend dancing with faeries in a private resort in the German woods, where you can express every nuance of intimacy, emotion, sexuality and vitality. Don't just "think" about your self-expression. Don't just "talk" about it. Live radical self-expression in bodily wholeness, spiritual enlightenment, and shaking your groove "thang"! Express your true sexuality in wild costumery, street clothes, or wearing nothing at all. Celebrate your unique Being in how you touch yourself, and how you touch others, whether it's hands-on-skin, an eye gaze, or touching deep into another's spirit and beyond.
The Back Story
When the pandemic hit in 2020 and everyone went into quarantine, a couple of UK faeries pulled their zoom skills together and created an online, twice-a-week dance called, "Faerie Touch5Rhythms Dance" where faes and their friends from all over the world could share music and dance together. Although this online format was never meant as a substitute for an actual in-person dance, the "windows" into each other's worlds provided a kind of insightful stage of radical self-expression, allowing for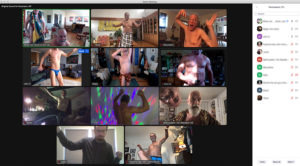 a high degree of vulnerability and therefore a surprising degree of intimacy. Fast forward to now, we are still meeting online twice a week, and it's high time we see if we can translate the fun and connection we've had on the Interweb into an in-person weekend experience. At the very least, this celebration will be a kind of first-time "reunion" for a group of people who have been dancing for years together, but never met in-person. We are very excited indeed, but don't think that we will be too insular. We want to meet and welcome you in-person, too!
We still meet online twice a week and you're welcome to dance with us. The zoom link is:
https://us02web.zoom.us/j/2588373370
Meeting ID: 258 837 3370
Password: albion 
We meet on Sunday: California Pacific Time: 9am, Central European Time: 18:00
and on Tuesdays: California Pacific Time: 10am, Central European Time: 19:00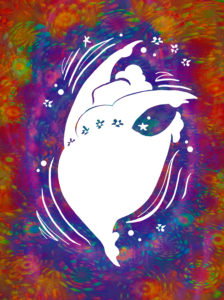 So will we just dance all weekend? (as if something is wrong with that?)
Yes, and no. We are mainly getting together to dance in the 5 Rhythms tradition because we have found such value, transformation, and healing from it. Yet, there are other ways to connect and enjoy each other, so between several dances throughout the weekend, there will also be workshops and free time to enhance our connections. Although I, Sexologist Jallen Rix (DJ Whee-zel) have taken on the job of "steering the ship" the weekend will be designed by a number of facilitators who have years of experience in creating environments that maximize intimacy.
All are welcome with consent and awareness
All are welcome at this event regardless of your orientation, gender, labels, size, shape, adult age, ability or skill level. Are you uncomfortable in your body? – you are welcome to the dance. Do you feel like you've never been able to "get" dance, but you are curious to try? – You are welcome, too! Although the weekend will be spoken in English, the great thing is that dance transcends any language. 
Since we are advertising this experience primarily to a fae audience, chances are the experience will be populated by mostly open-hearted gay men. We will be celebrating our sexuality at every opportunity throughout the weekend. Indeed, the online dances have always welcomed gay men's sexuality to be expressed however they like as long as it is in respect to the movement of the dance – all engaged with sex-positive consent and respect.
Although we want to swing our arms as wide as possible to include everyone, we realize the weekend will not be everyone's particular cup 'o tea. We recognize that perhaps for some, the degree of sexual freedom might be too "in your face" or too explicit. That's okay. We can't be everything to everyone. However, if it is both a little scary yet exciting for you to imagine mostly gay men expressing themselves in shades of masculine and feminine and non-binary ways, with or without costumery, celebrating their sexuality, and bodies, and phalluses without shame, you are welcome here whether you actively participate in eros or touch, or you just dance your brains out – it's all good! But we want you to know what you're walking into, what you'll most likely see/experience, what you're welcome to participate in, and we want everyone to have as wonderful a time as possible.
Why Dance? Why 5 Rhythms Dance?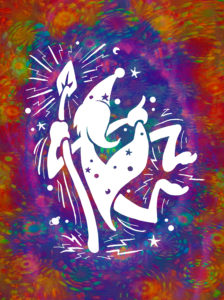 Some time ago I watched a young child hear the rhythm of music and unconsciously translate it into joyful movement. She wasn't more than a dozen months old. She could barely walk, and yet the music made her effortlessly move —up, down, jiggle, wave, stomp— whatever! The music went right from her ears directly to her body without the brain filtering it. She was a bubbling euphoric conduit of unabashed expression. I noticed myself with the natural urge to move with her, as did everyone who saw her. I was envious, wondering, "What happened to me? What was holding me back from moving so freely? Why didn't I dance like that anymore?"
The 5 Rhythms and Ecstatic Dance Movements have been the key to setting free that vibrant child in me and thousands of other people. Music and movement can bypass all our well constructed emotional barricades of "respectability" and help us plug into our pure emotions, our pure primal, our pure child, our integrated selves as we were whole right out of the womb. Music, dance and movement can recalibrate us, heal us, and set free our purest selves. This weekend we will hold space for all of us to express our true selves. Each wave of music will be a laboratory of experimentation for all our whole Beings to journey into new and diverse audio landscapes where we can express the ancient wisdom of our ancestors as well as blossom into new creatures beyond any explanation.
The 5 Rhythms model of mixing music is a loose structure originally conceived and developed by the late Gabrielle Roth. Its 5 "stages": Flowing, Staccato, Chaos, Lyric and Stillness, provide a "Wave" of music that often takes a dancer on a journey of movement and creative exploration. Despite the structure, music is highly subjective, and so is the interpretation of each DJ as they put their own spin on the 5 Rhythms. This faerie group is welcoming of a very wide variety of music that doesn't always fall neatly into the 5 rhythms. The great thing is you don't have to know anything about the 5 Rhythms to enjoy dancing to the music. Ya just gotta move, bab-ee! Who knows what audio landscape the music might take us to explore?
What's Touch got to do with it?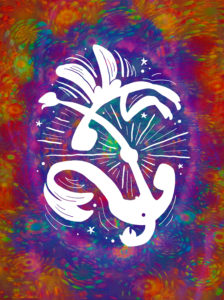 We live in a world where sexuality is exploited every way possible for financial gain, yet allowing an individual to express their true Sexual Being is often condemned, or more often reserved only for the privacy of a bedroom or perhaps on an online cam. Sexual expression and connecting with like-hearted beings is mostly censored to the shadows which then becomes a breeding ground for shame and abuse. We want to go in the opposite direction. Touch is as natural as moving and dancing. Just as we use words to express our inner-most thoughts, so too, can we use touch, the body, and movement to express our connections, desires, and joys. Within a safe and always consensual environment, this weekend will celebrate the importance and healing of engaging as much or as little touch as you would like to enjoy. Workshops and ground rules will be outlined to make the weekend safe for anyone to explore touch, boundaries, "yes", "no", and intimacy.
Details about the Retreat:
The Space: Seminarhof Schoeppingen

This retreat center lies in a lush countryside of meadows and gentle hills in Westphalia, approx 30 km from Muenster. The buildings can accommodate up to 60 people, include two large group areas, a sheltered garden, lots of nature, a sauna, and a hot tub – all areas provide privacy and safe space to connect freely with each other.
Food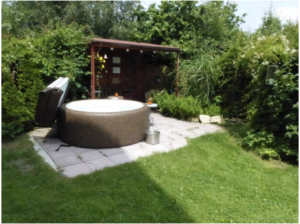 All meals from dinner on Friday night to Lunch on Sunday are vegetarian and included in the single price for the entire weekend. Food constraints can be accommodated – yum!
Weather
The summer weather in this part of Germany will be pleasant and warm in the 21c (70f) up to 37c (100f), with an occasional passing thunder storm. It's always wise to bring a layer or two that can always be taken off.
Health & Pandemic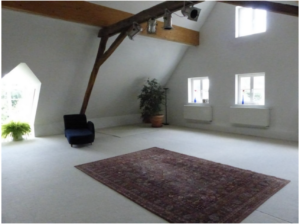 The center is made up of older buildings and therefore climbing stairs is required to get from space to space. Also, due to the intimacy and close contact of the weekend, we strongly ask that everyone do everything they can to keep viruses and illnesses away from the group. Please take every advantage to update and fulfill a fresh round of STI tests, vaccines, medications and self-care. Depending on the state of the world, and to protect participants who are at high risk, we may require that everyone test for COVID right before the event begins. These are all steps to create maximum safe space so that we can be as free as possible. As we take care of ourselves we take care of everyone. 
Arrival / Departure
Please arrive on Friday, August 11 between 16:00 – 18:00. Our first event, dinner starts at 18:00. The Celebration will end around 12:00 on Sunday, August 13. For initial planning, if you are flying in, the nearest major airport is in Düsseldorf. The retreat center is however not very far from other, bigger airports such as Amsterdam, Frankfurt or Hamburg. More details about transportation, possible carpooling and arrangements to be picked up from the train/bus stations will be outlined once you register.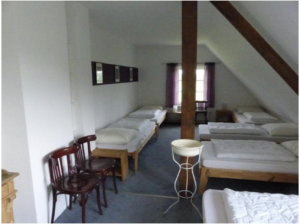 Sleeping arrangements
Obviously, this is not a high-end hotel, but the interior spaces are beautiful, clean and cozy. There are 5 rooms that only sleep 2 persons a room (a total of 10 people). Choose a 2-person room, and you will be randomly paired to share this room with another person. However, you can request to be paired with another specific registered person by simply letting us know who that is. The rest of the dorm rooms sleep 3 or more persons that you can pick where you sleep when you arrive.
One price for the entire weekend!
Double Occupancy Room per person:  €420  /  $443
Dorm rooms per person, sliding scale:
€250-$390  /  $275-$430
Price includes, accommodations, food, and all events.
Participants must be 18 years or older.
No pets.
Registration is open until the morning of the event. All participants must register ahead of time by using the link below. No walk-ins.
Scholarships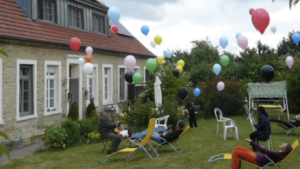 We want everyone to attend who wants to attend regardless of their financial limitations. We suggest if you can swing it financially, that if you know someone who wants to go and they can't afford it, simply pay their way or help them pay. Also, within the registration application, you can donate to the scholarship fund that goes directly to people who need it. The more you donate, the more others can attend. If you need some financial assistance, let me know: jallenrix@me.com
Refund Policy
All refunds are considered and given on an individual basis. Due to the majority of expenses being paid well before the event occurs, we can not grant refunds past the date of Monday July 24th, 2023.
FACILITATOR BIOS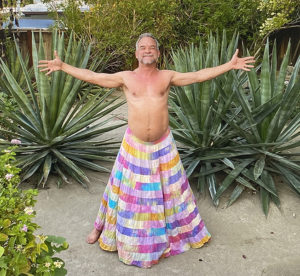 Sex educator, author and activist Jallen Rix (DJ Whee-zel) holds a BA degree in Music Composition. He has DJed an eclectic variety of music since the early 2000's in San Francisco, Burning Man, and Radical Faerie Gatherings, but he found his calling when he first experienced Ecstatic Dance in Hawaii at the Kalani Retreat Center. He has DJed Ecstatic Dance and 5Rhythms in Palm Springs, San Diego, LA, Placerville, and online. He also earned a Doctorate of Education in Sexology. He has taught at the University of Nevada, Reno and the Institute for Advanced Study of Human Sexuality. He maintains a private practice in Palm Springs CA, which includes personal consulting, sacred intimacy work, and surrogate-style partner experiences. If you'd like to sample some of his mixes, you can hear them here: https://www.mixcloud.com/jallenrix/
Mountaine has been facilitating group workshops, heart circles, rituals and ceremonies for decades, with such groups as Spirit Journeys, the International Playback Theatre Network, and radical faerie gatherings.  A trained and widely experienced musician, he has been dancing the 5 Rhythms with Asheville (NC, USA) Movement Collective for 25 years, and has facilitated there and online.
"We are thrilled to offer this unique experience for the first time to our fae euro family. We so look forward to dancing and touching like never before!"