The sexy summer camp you always fantasized about is now a reality...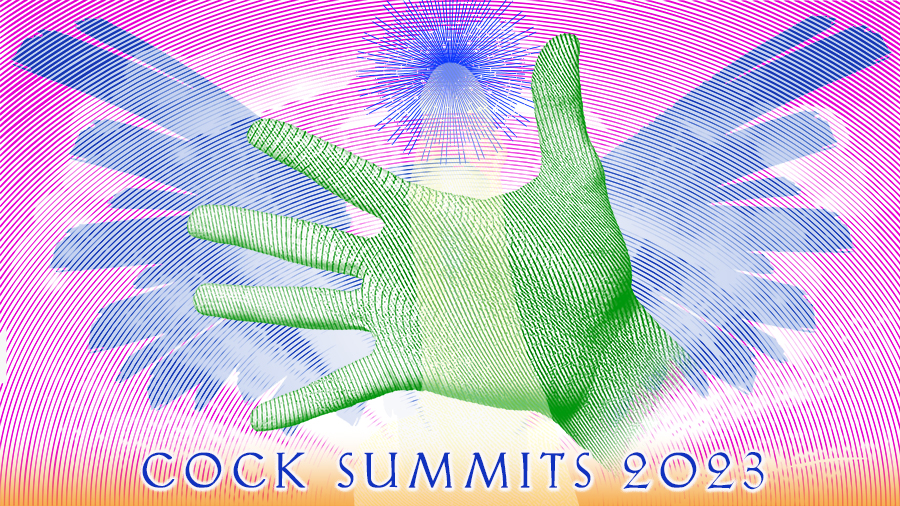 Cock Summit 12  September 15-17, 2023   San Diego CA –
Registration is now open below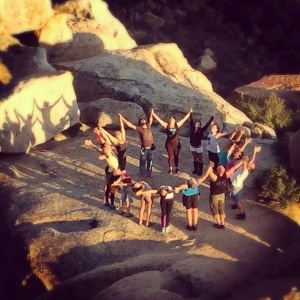 All are invited to the Cock Summit, specifically Bateworld members and anyone who enjoys making their cocks feel great! The first Summit in April 2017 was inspired by the special "safe space" that was and still is the staple of BateWorld.com. The idea was to bring the online experience into an in-person experience as well as into the openness of nature's acceptance.
At the Summit, w
e celebrate our dicks roaming freely
and
ruling our weekend!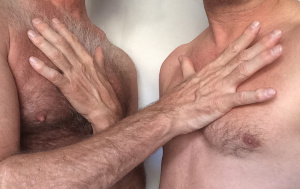 In the tradition of our pagan and faerie ancestors who recognized the importance of brazenly celebrating the phallus, we will throw our shame and conformity aside and revel in our masculine power under the sun. We will engage our compassionate camaraderie and bond with nurturing touch. In brotherhood, we will connect with our bodies and edify our diversity in every shape, size, length, age, color, hardness, softness, and ability. We will howl at the moon, and raise our phallus in honor of each and everyone's worthiness of pleasure. All self-identified males are welcome, gay, bi, straight, trans, and anyone else we have missed. Cum stroke your dick with us! You are welcome!
Personal experiences from past Cock Summits:
"I fell in love with my penis again! All was well-organized, we had a positive/diverse/friendly group and there was something for everyone. Clearly there was a lot of thought and effort that made the weekend so successful. I personally got so much out of the events, the camaraderie, the positive messaging and oh yes, the sex was great too. I asked a lot of people about whether they would consider returning next year and ALL were enthusiastically saying YES!"
— DESERTDAVID, Palm Springs CA
"This was not just a group of men gathering, not just nudity, not just sexual interaction and sharing, not just hiking, bonfire, drums etc… I think several of us have the ability to say this weekend has made a true mark on our lives. It is hard to describe the bond I found with other men this weekend. So many layers of insecurity were stripped away by the men that challenged my way of thinking, helped me push my own boundaries, physically gave me pleasure… and even those that made my heart of hearts pound harder in their presence. I am proud to have shared this experience with the men of Cock Summit 2017." — STR8SHOOTER, San Diego CA
"I bonded with some amazing men, milked quite a few cocks (some multiple times), challenged my own insecurities and was able to help other men do the same through brotherhood bonding & touch. I've made some real friendships and hope I helped change the way some feel and explore self pleasure." — MilkingLA, Atlanta GA
"Cock Summit II was life-changing, a totally incredible experience. The men who attended were so supportive and free, just the greatest group of guys, so many connections made… so many beautiful cocks to dream about and so many memories to jack off to! The leadership team was perfect, I greatly enjoyed the morning yoga and the Osho movement meditation! The location was ideal, I love being outdoors, esp naked. This retreat was everything I wanted it to be and more. Thank you everyone who was there, I loved every drop of fun!" — ClericOfPhallus, San Diego, CA
"I continue to marvel at how this event has positively impacted my life. Such deep bonds have been affirmed through continued contact this week….something I didn't anticipate. I'm still discovering the ways I've been transformed. Bravo from a heart filled with gratitude." — pudpup, Wisconsin
"I encourage anyone and everyone who wants to experience a raw, genuine, naked brotherhood experience to come to the very next Summit. Shed your inhibitions, doubts and fears and replace them with pure love, joy, acceptance and camaraderie all done in a safe and beautiful, natural environment. It is amazing to me how total strangers can bond immediately when the common goal is to feel good without shame, regret or control. Big dicks, small ones, fat ones, old ones, young ones, bent ones, curved ones – they all have a place here. Nobody judges you and nobody pressures you." — JC, San Diego CA
"The two days were filled with mind-blowing erotic pleasure, laughter, tears, hugging, kissing, corny jokes and male bonding to a degree that I had never experienced before. Also, did I mention the mind-blowing erotic pleasures? Prior to this, I always thought that the term 'bate on, brother!' was a colloquial term of endearment towards each other. Now I understand that it is a true brotherhood of men. The Summit can be incredibly playful, incredibly therapeutic or both. It can be as much or as little as you want it to be and the only requirement on your part is acceptance. Bate on, Brothers!" — SDChubby, San Diego CA
"Cock summit is a fully immersive experience everyone should have at least once in their life. You'll laugh with unbridled joy. You might feel overwhelmed by so much love, compassion, and trust from strangers. You'll feel seen and heard and touched. You'll feel awkward and shy and unsure and then out of nowhere you'll feel sexy and hot and manly. If the question is 'should I do this?' then the answer is an astounding 'yes!'" — Brian, Salt Lake City UT
"The Cock Summit has moved me to such a degree, emotionally and sexually, I will never be the same person I once was when I first arrived to this event. Through Jallen's knowledgeable instruction and leadership, as well as providing a safe and comfortable space in tune with the natural surroundings, this event has planted within my psyche, a seed of positivity and a healthy sense of self-love, allowing me to freely express and share my sexuality with other like-minded men, all the while, freeing me of the stigma that society has weighed upon me throughout my entire life. I finally feel liberated to be my true self. Thank you, Jallen!" — FumbleFingers420, Palm Springs CA
So… are we just gonna jack off non-stop?
Well, mostly, and why not? That's what bating is all about! However, we are neither gonna sit around all weekend, nor (to the other extreme) are we looking to run you ragged with every minute programed in workshops. We are hoping to strike a balance between the two – plenty of time to hang out by the pool, explore the terrain, take a nap – but enough activities that we can bond, connect, and take our stroking to deeper levels of enlightenment.
As the weather permits, we will inhabit the land all the while our cocks in hand. We will engage each other in bonding and playful experiences like (as one example) telling stories, our stories of sexy fantasies, and peak experiences, stories of the ancient love for the holy phallus and how it has made itself alive in our present reality.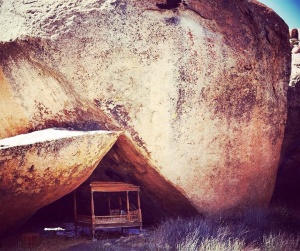 Let the pure love of cock win the day! Let the youthful sprite and the muscled warrior and the wise old wizard in their nakedness and costumery unite for cock's sake and heal us of our inhibitions and fear, reinforce our confidence, nurture our intimacy and bond us as bator brothers. We are all unique personas while at different places in the journey, so everyone will be accepted for participating at the level to which they feel most comfortable. Let this event allow hand, heart, body and cock, work the power of rhythm and movement and "skin-flute music" so that we can rock the night away! Join us, Cock Pioneer as we explore together what might profoundly affect you for the rest of your life! All the sexiness, acceptance and fun you've experienced with your bate in front of the computer, like on BateWorld, you get to have in person, surrounded by men all stroking for pleasure, taking that intensity and intimacy to an even more personal level than can be achieved alone. Connect with your bate brothers like never before!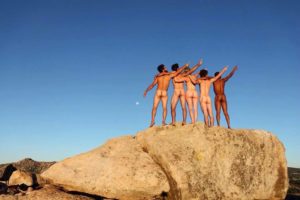 Sexual Activity
If you take the plunge and join us for the Summit, you will be accepted as you are, whether you get hard or stay soft, or you orgasm, ejaculate, withhold your orgasms, cum in buckets, or just stand around and watch – our desire is to connect with other like-hearted men therefore the "performance" of your cock is not going to hold us back from connecting with you. The vast majority of the sexual activity will be touch and masturbation. In this short weekend, we ask that anal penetration be avoided simply because of the cleanliness/STIs factor, though an occasional blowjob would not be out of the question. We will take clear steps to make the environment a consensual experience. Therefore, that means you will ultimately be responsible for saying "yes" or "no" to the activities you participate in. However, the focus of the weekend, like online, is about self-pleasuring. Poppers may be used, but only outside and away from the buildings.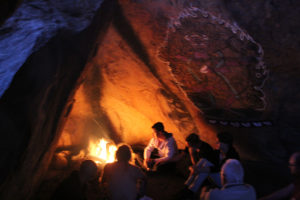 This will be a mainly drug and alcohol free weekend
What that means (taking a cue from Radical Faerie retreats) is that we want to respect our brothers who would be triggered by the use of alcohol and other addictive drugs, so we ask that alcohol, and the use of cannabis be kept primarily hidden from site and away from buildings. There will be an outdoor designated cigarette smoking area. Poppers will also be kept outside and away from buildings. Anything "harder" than the aforementioned stimulants, such as meth, speed, cocaine, acid, mushrooms, etc… is NOT part of this weekend. We are explaining this in detail as a way to strike an adult middle ground between hyper-abstinence, and trusting that everyone will be responsible adults who take care of themselves. As a general rule, if there is any question in your mind that you can't manage your own stimulants, then don't bring them or don't come. We want to connect with YOU not your drugs.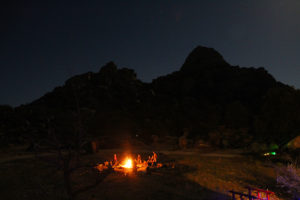 We know that stimulants can assist with that connection, but we also know how it can hinder as well. During the course of the weekend, if anyone appears to be so "affected" by a stimulant (regardless of what it is) that it affects their ability to be present, respectful, or aware of their affect on others, they will be escorted off the property without refund. This has never happened and we hope you'll help us keep it that way. We have every compassionate intention to create a safe space for ALL our brothers. Don't waste your time. Don't waste your money. Don't waste the weekend creating bad energy for yourself or others. We say this explicitly and strongly now so that we can have a great time then. Make sense? Thank you for taking care of yourself and your bator brothers!
Specifics for the Southwest Cock Summit outside San Diego, Sept 15-17, 2023: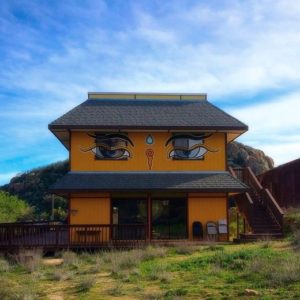 The Space: Liberty Arising Yoga Retreat Center
Liberty Arising is in the wilderness outside of San Diego California, just 70min. from the airport. The landscape is identical to that of Joshua Tree National Park. The dramatic and beautiful desert's rocky terrain is the environment of this rustic yoga center. The center accommodates about 50 people. The property has a pool, hot tub, meditation barn, indoor and outdoor bathrooms/showers, plenty of hiking trails, and inspiring settings, all of which we will have to ourselves to play in and enjoy.
Food
Excellent meals from Friday's dinner to Sunday's lunch are provided by a really great local So Cal chef (included in your registration fee) – yum!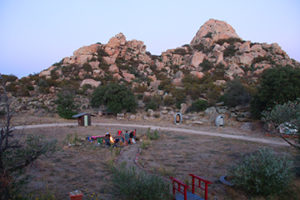 Weather
This is a high desert climate. It can get windy. The temperature at this time of year sits between 80's and 100's in the day, and gets down to the 50's at night. The pool is not heated, but the large hot tub of course is heated. Bring some layers, but most likely we'll have summer heat!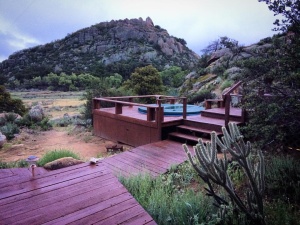 Health
Because of the rugged environment, we ask that all participants be in good health and be able to maneuver rocky trails and stairs to get around. Also, due to the intimacy and close contact of the weekend, we strongly ask that everyone do everything they can to keep viruses and illnesses away from the group. Please take every advantage to update and fulfill a fresh round of STI tests, medications and self-care. These are all steps to create maximum safe space so that we can be as free as possible. As we take care of ourselves we take care of everyone.
Arrival/Departure, SoCal traffic and Carpooling
Please arrive at the retreat center between 4-6pm, Sept 15th. We know how bad traffic can be on Friday in SoCal, so take the day off and take your time driving to the event. If you are flying into San Diego and need to be picked up, your flight MUST arrive at the San Diego airport before 4pm on Sep 15th so that we can make one trip to pick everyone up. If you cannot arrive at the retreat center before 6pm on Friday night, seriously consider attending another time, since the Summit is only about 48 hours long, and Friday night opening orientation is key to your experience. The Summit will end around noon on Sunday, Sept 17th. If you are flying out of the San Diego, please make your departure flight time after 2pm so that there is no rush to the airport to make your flight. Lots of guys stay in San Diego on Sunday night and fly out on Monday which usually gives them a much cheaper rate than flying out on Sunday. If you cannot schedule your flights within these designated times, we cannot guarantee you a carpool ride, and you may have to make your own arrangements. Carpooling is arranged within the 2 final weeks leading up to the Summit to accommodate as many riders as possible.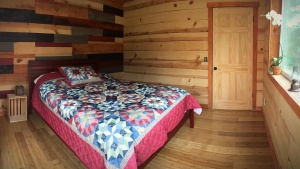 Volunteer Discount
We need your help and some of you need a discount. We need 5 guys to help throughout the weekend with food prep and we will take $50 off your weekend fee. This discount is ONLY for particiapnts who can afford either the dorm or camping. It is NOT available to participants who are in 2 person rooms. If you would like to be one of those 5, check the correct box on your registration form to get your discount.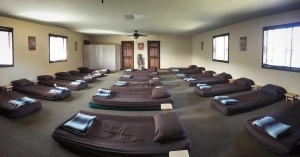 Sleeping arrangements
Obviously, this is NOT a Hyatt resort. But the interior spaces are beautiful, clean and cozy. There are 6 rooms with king/queen sized beds for two people each (12 people in total). Choosing this option, you will be randomly paired to share the room with another person unless you have specifically reserved the room with another person ahead of time.  Also, there is a large dorm room that sleeps 24 participants on comfortable futons.  For an even more nature-connected experience, another 20 people can tent on the land, or bring their mobile RVs/campers to park with plenty of space to spare  (larger RVs will have to park at a distance because the final piece of road is so bumpy – a 10 to 15 minute walk, bring a bicycle!). The double occupancy rooms will go fast, so get your reservation in quickly.
Pricing
Double Occupancy Room PER PERSON (king/queen size bed shared with another person): $570
Common dorm room: $495
Tent Lodging (bring your own tent or camper and everything in it): $440
Participants must be 18 years or older.
No pets.
Registration is open until the morning of the event. All participants must register ahead of time by using the link below. No walk-ins.
Refunds
We can not grant refunds past the date of Wednesday, August 30th, 2023. Prior to that, we consider and give refunds on an individual basis.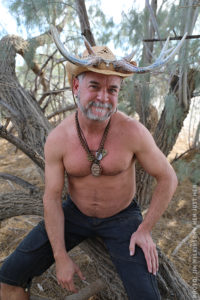 Sex educator, author and activist
Jallen Rix
holds a Doctorate of Education in Sexology. He has taught at the
University of Nevada, Reno
and the
Institute for Advanced Study of Human Sexuality
. He maintains a private practice in Palm Springs CA, which includes personal consulting, sacred intimacy work, and surrogate-style partner experiences. He has appeared on talk shows, like
Our America with Lisa Ling
on
Oprah's OWN Channel
, and
ABC's News Magazine 20/20
. He is a leading expert on the damaging effects of ex-gay ministries and so-call "reparative therapy." His book,
Ex-Gay No Way: Survival and Recovery from Religious Abuse
, was nominated as best non-fiction books of 2010 by the
Lambda Literary Foundation
. His film,
Lewd & Lascivious: The 1965 Police Raid on California Hall
premiered to sold out crowds at
Frameline 2013
, San Francisco's LGBTQ film festival, and won the
AASECT Media Award
for 2014.
"I'm so excited to see you in person, to explore, bond and have a cock-stroking good time with you, my brothers!"