Learn the secrets of true intimacy to give and receive the connection you crave!
Thursday, Feb 9 – Monday, Feb 13, 2023
Registration is now open! In 2023, your Valentine's season can be filled with intimacy! 
A small group retreat of 10 – 20 men focusing on empowering and honing their intimacy skills despite past 

obstacles

 and trauma by using positive masculinity, erotic energy and connection.
A personal invitation from Dr. Jallen Rix:
Intimacy – it's the one thing that most everyone wants out of their connections with others. Whether it's a weekend fling or a life-long relationship, most of us want some sort of connection that gives us a sense of meaning, belonging, fulfillment, and validation—It's the magic element of intimacy. Many relationship experts believe that true intimacy is the glue that can keep us all connected and valued as we interact with each other. Intimacy is the "stuff" that makes connection worthwhile.
Do you know how to generate intimacy? Do you know the skills to draw intimacy out of others? Imagine an extended weekend of male bonding and erotic experiences that will teach you how to identify the magic of intimacy and maximize it in your life. You deserve to treat yourself and enrich your Sexual Being with intimacy like never before. Come and build a community of like-hearted men that will affirm our abilities to bond, not just online, but in-person as well. This community will hold space for all of us to deal with, and heal from, the trauma of being shamed for our unique desires to connect. Put your intimacy skills into practice in a safe, compassionate, primal bubble and, furthermore, supercharge your ability to take this intimacy experience home and continue to spread your lasting erotic abundance beyond the weekend. 
So many of the people I work with ask for a kind of community that can really take our erotic growth seriously. Surprisingly, we've found much of that community online during the pandemic more so than we might have thought. Now is your chance to be a part of an in-person community! Chances are, you've seen my work, whether in private practice, online workshops, in-person retreats, or video teachings. You know how sincerely I desire to capably provide you a space to be yourself and to celebrate your sexuality. Let's have some fun together and do this for each other.
Watch past participants share their EIR experiences....
Personal experiences from past EIRs:
"My experience at EIR re-opened my heart and warmed my erotic soul.  I went home feeling like I had connected mentally, emotionally, and erotically with a great community of men.  Just what I needed!" — FORD C, Minnesota
"I feel I gave this experience to myself as a gift for my life. For me, it was a safe, caring space to expand my emotional, physical and spiritual horizons and to discover and move beyond my edge. It showed me things about myself I would not have perceived without the reflection and love of my brothers. We laughed a whole lot, we cried some and we danced!" — JOE T, N Carolina
"After a year of covid isolation, I needed a space to re-engage connection.  EIR was a marvelously wholistic container to connect on many levels of intimacy – sharing stories, thinking together, random cuddles, structured group rituals, mealtimes, beautiful sexual encounters.  I came away feeling simply more whole again." — JOHN, Chicago
"My intention on the retreat was to be more vulnerable, to be open to touch as much as my body would allow, and to continue to practice my desire to integrate my sexuality and my spirituality. Under Jallen's ability to hold a safe container for the weekend, I was able to experience all of those things and to come away with a sense of intimacy with the other guys that was deeply rewarding. I carried away a new sense of what was possible for me, a single gay man living alone, to open myself up to intimacy. The group exercises gave me a renewed appreciation of giving and receiving, of being brave and asking for what I want! Above all, a new community was created, and I know we'll all have a special place in our hearts for each other going forward. I can't think of a more special and sacred way of coming out of the last fourteen months than EIR, thanks to Jallen's understanding of who we are as gay men, and what we need." — NIC R, San Diego, CA
"It was a beautiful and sexual event. I would say to anyone considering attending: Go and enjoy being your free open sexual self!!! Oh and enjoy the great food too!" — Dennis C, New Jersey
"I am proud to be in any way associated with events that make us better humans and better lovers. EIR is just that kind of event." — George W, Palm Springs CA
"WOW! What a great retreat. It exceded my expectations. Jallen is a great facilitator and so are his co-facilitators. Everything was well organized and well executed. I learned, I connected with other participants, and I had FUN!" — JERRY R, Palm Springs CA
Here is just a sample of what we will do together:
– Turn up and fine tune your sense of touch with group massage and partner caress.
– Rituals that will bind and bond you to this very unique tribe of men.
– Expressing your "sex" with words. Affirming your "No's". Celebrating your "Yes's"! Being honest with "Ouch. that really hurt," and empowering your, "Ooo that feels good, more please!" 
– Puppy piles. 
– Group hot tub parties.
– Address hidden obstacles that keep you from thoroughly enjoying deep connectedness.
– Through your body (not just your words), learn to express sexual pleasure, needs, and desires. 
– Hiking.
– Erotic experimentations, explorations and parties. 
– Submerge yourself in sustained, high levels of luxurious intimacy.
– Discover and create your peak sexual experiences.
– Connect with your primal masculine that has nothing to do with competition, bullying or oppression.
– Be honored and accepted for what your sexy uniqueness can bring to the table, and what you can't bring to the table, as well.
– Great food! 
– Did I mention puppy piles?
– Aquire the strategies and tools to develop the connection you crave long after this weekend.
– Receive your much-needed fill of intimacy from an accepting and compassionate group of brothers exploring the same experiences as you.
What a day will look like:
We will have 3 full days together with a Thursday evening and Monday morning tagged on. For some, this might sound overwhelming. The good thing is that real intimacy is never desperate or coersed. I and my co-facilitators have no desire to force-feed, or over-feed you. That's no fun. However, we want to give you your money's worth. Striking a balance between programed activities and boredom is high on our priorities. Although no one is required to do everything, the more we can all be in the same flow, the more intimacy we will experience. Here's a sample of what a day would look like:
Breakfast around 8 or 9am
Morning stretching / meditation / yoga
Late morning session taking us up to lunch
Lunch
Free time up until 3 or 4pm (gotta get my nap in)
Late afternoon session
Dinner
Evening session –  drumming around the fire / relevent movie nights / exotic dance party / who knows?
I know it can feel risky, but the emotional and erotic payoff is going to be so great. Besides, discern your options… Do you think you can find this level of intimacy and connection by reaching out to strangers on Scruff or Grindr? Does that seem less risky? Don't let old routines, denial or shame fool you. The EIR provides you as safe a place as any to test the water and/or jump right in! We will create a safe world where you are valued as a sexual being regardless of your shape, color, dick size, or your skill set. This is your chance to dive deep into a community of men and let your guard down safely, and therefore receive the acceptance and affirmation for who you really are. Join us for an amazing, life-changing experience! 

Sexual Activity
If you take the plunge and join us for the EIR, you will be accepted as you are, whether you get hard or stay soft, or you orgasm, ejaculate, withhold your orgasms, cum in buckets, or just stand around and watch – our desire is to connect with other like-hearted men therefore the "performance" of your cock is not going to hold us back from connecting with you. Much of the sexual activity will be touch, masturbation and oral activity. We will make the environment a consensual experience. That means you will ultimately be responsible for saying "yes" or "no" to the activities you participate in. Just like in life, every encounter is a unique experience. Let's see what we can create and enjoy together, shall we?

This will be a mainly drug and alcohol free weekend
What that means (taking a cue from Radical Faerie retreats) is that we want to respect our brothers who would be triggered by the use of alcohol and other addictive drugs, so we ask that alcohol, and the use of cannabis be kept primarily hidden from site, away from buildings, and used during off hours. There will be an outdoor designated cigarette smoking area. Poppers will also be kept outside and away from buildings. Anything "harder" than the aforementioned stimulants, such as meth, speed, cocaine, acid, mushrooms, etc… is NOT part of this weekend. We are explaining this in detail as a way to strike an adult middle ground between hyper-abstinence, and trusting that everyone will be responsible adults who take care of themselves. As a general rule, if there is any question in your mind that you can't manage your own stimulants, then don't bring them or don't come. We want to connect with YOU not your drugs. We know that stimulants can assist with that connection, but we also know how it can hinder as well. During the course of the weekend, if anyone appears to be so "affected" by a stimulant (regardless of what it is) that it affects their ability to be present, respectful, or aware of their affect on others (this includes hangovers), they will be escorted off the property without refund. This has never happened and we hope you'll help us keep it that way. We have every compassionate intention to create a safe space for ALL our brothers. If you can't aliugn yourself with us about these limited stimulents, don't waste your time. Don't waste your money. Don't waste the weekend creating bad energy for yourself or others. We say this explicitly and strongly now so that we can have a great time then. Make sense? Thank you for taking care of yourself and your brothers!
Specifics for the EIR Retreat outside San Diego, 2023: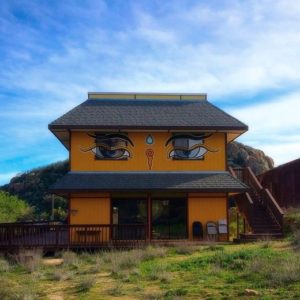 The Space: Liberty Arising Yoga Retreat Center
Liberty Arising is in the wilderness outside of San Diego California, just 70min. from the airport. The landscape is identical to that of Joshua Tree National Park. The dramatic and beautiful desert's rocky terrain is the environment of this rustic yoga center. The center accommodates about 50 people. The property has a pool, hot tub, meditation barn, indoor and outdoor bathrooms/showers, plenty of hiking trails, and inspiring settings, all of which we will have to ourselves to play in and enjoy.
Food
Excellent meals fromThursday's dinner to Monday's brunch are provided by a local So Cal chef (included in your registration fee) – yum!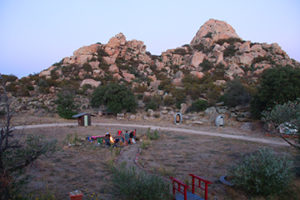 Weather
This is a high desert climate. It can get windy. The temperature at this time of year sits between 60's and 80's in the day, and gets down below the 50's at night. The pool is not heated, but the large hot tub of course is heated. Bring some layers, but most likely we'll have moderate temps!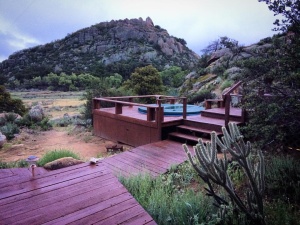 Health
Because of the rugged environment, we ask that all participants be in good health and be able to maneuver rocky trails and stairs to get around. Further, because this event involves sexual health and activity, we insist that everyone get a full spread of STI testing 2 weeks before the event and within that 2 weeks leading up to the start date, we all keep our activity to a minimum so that any possible spread will be kept out. That said, everyone is responcible for their own sexual health. Most likely we will require a negative COVID test at least 72 hours prior to the start of the event.
Arrival/Departure and Car pooling: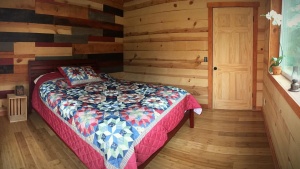 Please arrive between 4-6pm, on Thursday, Feb 9th. If you are flying into San Diego and need to be picked up, please make your airport arrival between 12-4pm on Feb 9th so that we can make one trip to pick everyone up. The retreat will end around noon on Monday, Feb 13th. If you are flying out of the San Diego, please make your departure flight time after 2pm so that there is no rush to the airport to make your flight. Carpooling will be arranged from the San Diego airport once registration is complete.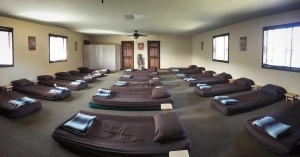 Sleeping arrangements
Obviously, this is NOT a Hyatt resort. But the interior spaces are beautiful, clean and cozy. There are 6 rooms with king/queen sized beds that can either be reserved by one or two persons per room. Also, there is a large dorm room that sleeps 24 participants on comfortable futons. The rooms always go fast, so get your reservation in quickly.
Pricing :
Single Private Room: $1385 
Double Occupancy Room (king/queen size bed shared with another person): $1195 (per person) 
Dorm Room: $1080
SCOLARSHIPS ARE AVAILABLE, send an email request to jallenrix@me.com
COVID-19 REMINDER:
All participants must show proof of complete COVID-19 vaccination to attend this event. We may also require to be tested 72 hours prior to the event. All of this is done so that we can keep the risk on infection as low and away from us as possible.  Furthermore, if at the last minute, you were to come down with COVID, making it impossible to meet for the retreat, refunds of attendance delays will be handled case-by-case.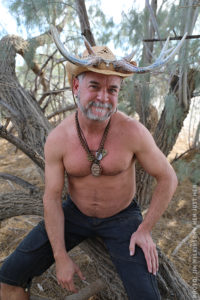 Sex educator, author and activist Jallen Rix holds a Doctorate of Education in Sexology. He has taught at the University of Nevada, Reno and the Institute for Advanced Study of Human Sexuality. He maintains a private practice in Palm Springs CA, which includes personal consulting, sacred intimacy work, and surrogate-style partner experiences. He has appeared on talk shows, like Our America with Lisa Ling on Oprah's OWN Channel, and ABC's News Magazine 20/20. He is a leading expert on the damaging effects of ex-gay ministries and so-call "reparative therapy." His book, Ex-Gay No Way: Survival and Recovery from Religious Abuse, was nominated as best non-fiction book of 2010 by the Lambda Literary Foundation. His film, Lewd & Lascivious: The 1965 Police Raid on California Hall premiered to sold out crowds at Frameline 2013, San Francisco's LGBTQ film festival, and won the AASECT Media Award for 2014.
"I am so thrilled to be taking these steps back into physical intimacy and erotic connection with you!"